PROOF!
PROOF: THEY LOVE EACH OTHER…THEY CAN BE SWEET!
January 3, 2014 | MOM PROBLEMS
"It'll be fun," they said.
"Have them close together, so they can be besties!"
My Irish twins, 14-months apart.
MAX & MYA, Volume 1:
"Give your sister a kiss!," Mama Chickpea exclaimed, as her son behaved poorly in his "tornado-like," "terrible-twos" persona, aimed directly at his little, innocent sister.
Almost instantly the double-digit "storm," leaned in so his younger sister could KISS HIS CHEEK.
Mama Pea couldn't help but smile, anyways. It's the little things they teach you to see differently, that make them so special…I haven't ruined them, yet!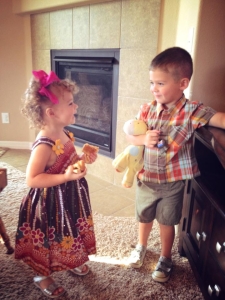 #love #supermom #inspiration #diy #parenthood
ABOUT THE AUTHOR
Shelly Arroyo, A.k.a. Mama Chickpea
When she's not doing homework or making yet another cheese sandwich, Shelly loves doing arts & crafts, watching endless cartoons, playing with her pups, and cuddling with her minions. Like any 24/7 mom, she cherishes her brief gym time, and her daily shower in peace. Art has always been her escape from the insanity of life, and is often the inspiration behind many of her illustrations.
#mamachickpea #crafty #supermom #inspiration